REPOLE JOB FINDS.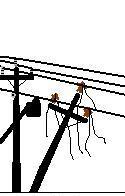 All of the insulators listed below came from a repole job done by Hamlin Electric Contractors that occured over the summer of 2002 on Ellicott Highway between County Road 110 and Scott Rd.(This is near Calhan, Colorado.)
| | |
| --- | --- |
| U Number | 661 |
| Manu. | CHANCE |
| Style | 83 |
| Color | SKY-GLAZE |
| Size | 4 1/4''T x 5'' T |
| Weight | 3 Lbs. |
| Rated Voltage | 7,200 AC |
| Date Codes | 30 97 |
| Inventory Amount | 6 |
| | |
| --- | --- |
| U Number | 666 |
| Manufacterer | Ohio Brass |
| Style | None |
| Color | Sky/Black |
| Size | |
| Weight | 5 Lbs. |
| Rated Voltage | 14,400 AC |
| Date Codes | None |
| Inventory Amount | 3 |
U Number
734
Manufacterer
Locke
Style
6510
Color
Striped Brown and
Mahogoney
Size
Weight
3 Lbs
Rated Voltage
7,200 AC
Date Codes
None
Inventory Amount
7
The details on the former line:
The oldest surviving segment of this line is between Scott RD. and three spans short of U.S. 24. The former line was owned by the R.E.A. until Mountain View Electric Association was created.The REA's standard transmission voltage was originally 45 Kv. This voltage required the two part multipart insulators. The line was on its third re-build when it was repoled in August 2002.
This line had M-2751'S,U-651 LOCKE 9995'S,U-661 CHANCE 83's (date code 30 37),U-663 THOMAS,U-666? Ohio Brass S(B)T ,LOCKE U-734's and some PINCOS.
These dead-ends were the most varied that I have ever seen on a given stretch of pole-line.
There were SEDIVERs, PP chocolate brown strings, There was a butter scotch glazed disc,when I saw it, I had to have it. There were polymer dead-ends on the newer poles.
There are some SEDIVER Suspension discs left on some of the older lines in the area and also on a Auto-Recloser pole a few spans from my house.
One U-663 Chance I had found had solidified aluminum drops where lightning had apperantly hit the tie-wire
Some of the old insulators were reused to raise the neutral wire over Judge Orr road. insulators were also re-used on the tap-lines. Some are being kept at the Falcon office warehouse as replacement stock.
M.V.E.A.threw the Pinco's in the pole holes because there is a very small amount of porcelain between the saddle groove and the pinhole. The slightest surge will pop straight to the pin and burn the cross-arm.
There were also A.B. CHANCE Aluminum Dead-End Bells used on the line.
(These are notorious for failing; the process is very violent, with molten Aluminum flying through the air and often times, they also drop the line wire to the ground.)
According to a local contractor/lineman,
"Those old A.B.CHANCE Dead-End Bells that have failed the most are the brown glazed ones."
MVEA has switched to polymer dead-ends recently because this has happened in Simla,Calhan,And Falcon on the 7.2KV lines.
Colorado Springs Utilities ,a neighboring utility, has also switched to steel capped dead-end bells and more recently, to SEDIVER polymer dead-ends
C.S.U. distributes power at: 2.4Kv, 4.8Kv, 34.5Kv,115Kv, AND 230Kv
Power Glass
Telephone
Telegraph
Porcelain Insulators
In Service