...another Unknown Military Phone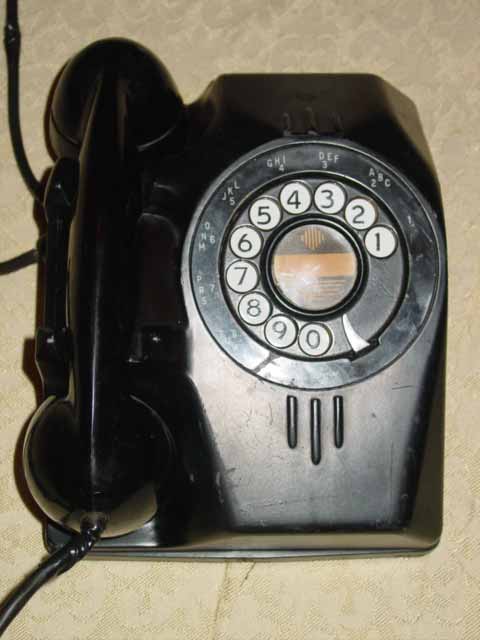 Hello, I found your website when doing some research on a phone I recently found.
SIGNAL CORPS US ARMY TELEPHONE TA 166/U
Conn. Tel. & Elec. Corp.
I attached some pictures for your site, or if you know anyone who can identify it for me please pass it along.
I am familiar with the TP-6-A but this one must have been its successor ?
Much thanks in advance !
Ben Younce
benyounce@hotmail.com
Indianapolis, IN




To my knowledge, that is not the successor to the Connecticut Army Signal
Corp "Toaster" phone, but the wall version of it. It also had the feet to
use in on a desk if need be, but the explanation I got from another
collector, when I got mine about 4 years, ago, was that it was used during
the Korean War, in Military bases and hospitals....on the wall.
John Carson



I've got one of the SIGNAL CORPS US ARMY TELEPHONE TA 166/U, Connecticut
Tel. & Elec. Corp. phones. If I remember correctly, the "network" just
connects various screw terminals with wires-no induction coil, etc.
Stephen

Johnny,
It sounds like you have a TP-6-A telephone manufactured by Connecticut
Telephone & Electronics. These telephones had a black metal housing and
were pyramid shaped. This is referred to by collectors as the "Toaster
Phone," because of its vague resemblance to a toaster. They were equipped
with heavy rubber cords. Connecticut won several supply contracts to
supply these to the US Army. They were widely used on military bases. When
I was a draftee in the army at Ft. Huachuca, AZ in 1955, these were the
base telephones used there.
I have one stamped DEC 48 MFP in red on the base. This means it was
manufactured in December 1948. The MFP stands for moisture fungus proofed.
The interior components were sprayed with a varnish-like substance that
provided greater resistance to moisture and inhibited the growth of fungus
common in areas of high humidity.
There were other manufacturers, including Western Electric, who also had
contracts to manufacture TP-6-A telephones for the military and were
stamped with this same designation. Western's version looks very much like
its standard Bell System 302 type telephone, except that it was also MFP
treated and had heavy rubber cords..
The handset on my phone has the same inscription as yours. Riveted to the
outside of the metal base on mine is a plasticized circuit diagram labeled
"Telephone TP-6-A. The handset is similar in shape, but not identical to
the Western Electric F1 handset. The transmitter capsule looks identical
to the F1 Western Electric transmitter. The receiver is different from the
WE HA1 receiver in that it is round, rather than having two flat sides.
Mine is marked "Contelco" The transmitter and receiver caps have
identical threads to those of the same parts on the WE F1 handset, and are
interchangeable, as are the transmitter and receiver capsules.
Sometimes you find these telephones with Automatic Electric Co. dials. The
one I have has a Connecticut dial. It takes considerably more force to
wind up this dial than it does an AE or WE dial.
Hope this helps.
Roger Conklin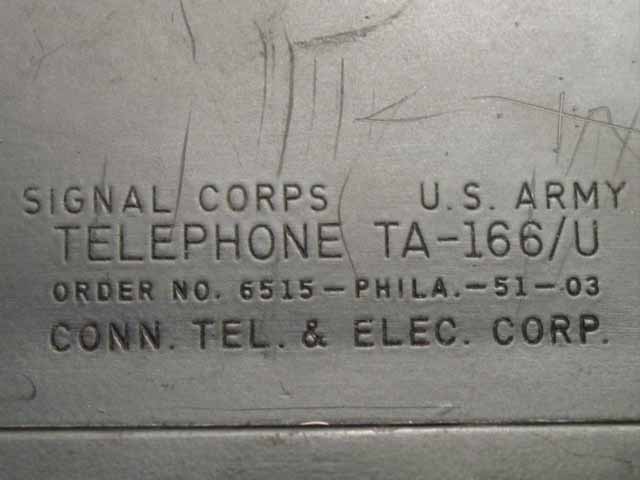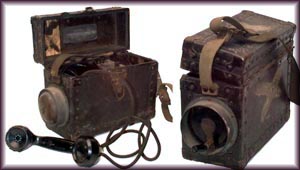 Know anything about this W.W.II field phone?
Write to me below please!