Welcome to the Internet home of


Magic Mist Samoyeds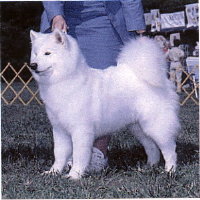 CH Southern Mist's Frisky Fresca, CD, CGC, TDI
Foundation bitch of Magic Mist Samoyeds
July 6, 1989 -- December 16, 2002
Breeders: Theresa Moreno (Southern Mist) and Carrie Parma-Collier (White Magic)
Sire: CH Sanorka's Moonlight Gambler, ROMC
Dam: White Magic's Margarita Mandy
---
It all started with one small but remarkable puppy...



...................................................................................





...and so far it has been a 22-year love affair with the Samoyed breed.
The crew at Magic Mist Samoyeds is active in conformation showing, obedience, sledding and pack hiking. We have dabbled in agility, weight pull and herding.

I am a member of the Samoyed Club of America and the Antietam Creek Samoyed Club.

Breeding is done sparingly at Magic Mist, with the goal of improving and preserving the Samoyed breed. Health screening of potential sires and dams and extensive vertical and horizontal pedigree research are employed when making breeding decisions. I put great emphasis on correct Samoyed temperament when breeding. Without the correct mental "structure," it is not a true Samoyed.

I enjoy the whelping and care of puppies very much, so I help other breeders when possible. For many years I was the official "Whelper Helper" for Moonsong Samoyeds.

Fresca with her first litter, sired by
CH Shadow-Wood's the Candyman (Licorice)
Licorice X Fresca Litter (July 10, 1993)

CH Magic Mist Rak-Kandi Moonman
(Tycho)


CH Magic Mist's Moonshadow
(Bailly)

Magic Mist's Marina Sirtis
(Imzadi)




CH Magic Mist's Crescent Moon
(Chrissie)




Magic Mist's Moonlight Monarch
(Moon)

Camera Shy
Magic Mist's Moonlight and Lace (Lacey),
CH Magic Mist's Moonflower (Flower)
---
| | |
| --- | --- |
| | Fresca's second litter was sired by Multi CH BIS Northwind's Rising Star (Star) in 1995. |
Star X Fresca Litter (August 31, 1995)

CH Magic Mist's Moonsong Maker
(Bach)




Magic Mist's Make a Wish
(Starr)


Magic Mist's King Russell
(Russell)

Camera Shy
Magic Mist's Make It To The Top (Trooper),
Magic Mist's Make Me Smile (Sasha)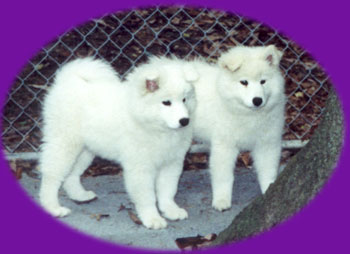 Fresca's daughter Starr was bred to BISS CH Cot'n Pic'n Shotavodka to produce her first litter in 2000.

Panzer X Starr (February 5, 2000)

Magic Mist's Blushin' Russian
(Katya)




Magic Mist's Wild Brew Yonder
(Brewster)
---
Starr's second litter is by Christori's Simply Signific'nt
Sigee X Starr (February 11, 2005)
Christori MMist Salute to Sequence

(Salu)






---
Introducing: The New Girl on the Block, Cuvee's Marilyn Merlot
(Merlot)


Merlot and her littermates were sired by BISS CH Hawkwind's Mont Blanc (Summit).
They are out of BISS CH Sterling's Artistic Blend (Zinfandel).
Bred by: Karen Allison, Dr. Marion McNeil and Linda Kitzman

Merlot is the great great niece of my foundation bitch, Fresca.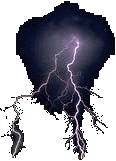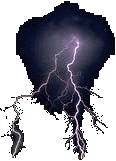 News Flash!



Merlot was bred to CH SterlingMoonsong Coppersmith (Rowdy) in March of 2011.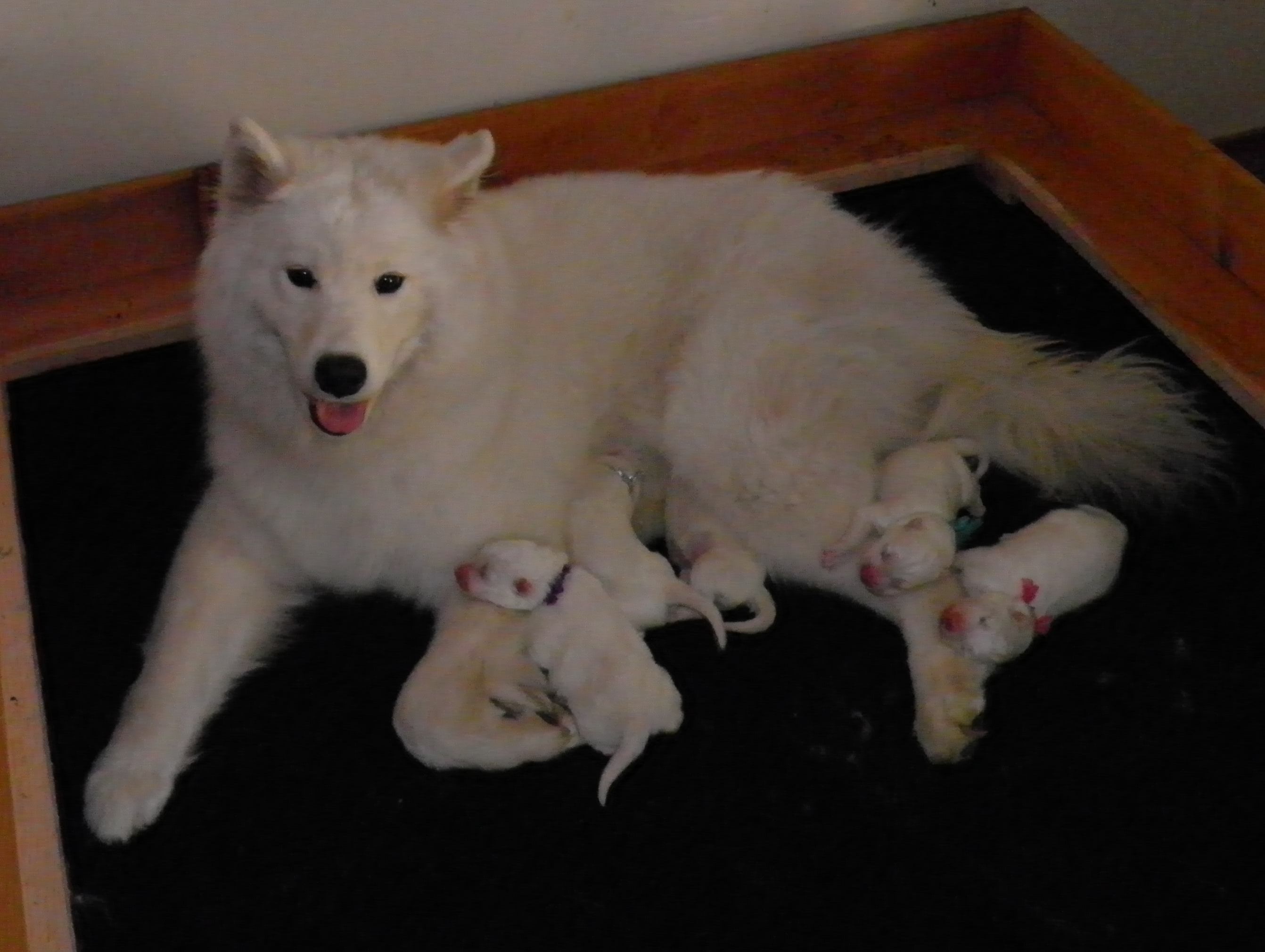 She whelped on May 3. She is proving to be a fantastic mama.
We are enjoying getting to know her babies!

Click to see the pedigree of this litter.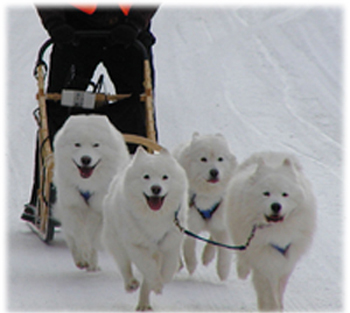 Brewster, Starr, Imzadi and Bailly training for the Magic Mist sled team.
Just look at those Sammy smiles!
Email me: magicmistsams@yahoo.com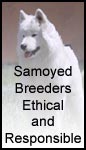 Copyright © 2000-2011 WebzByDebz