Welcome to The Pole Climbing Primer!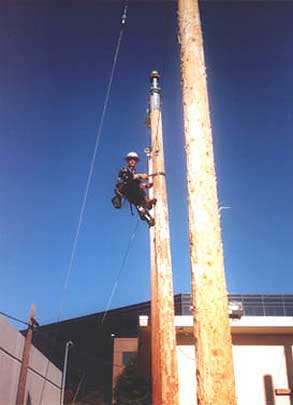 (The Pole Climbing Primer author aloft at a then Regional Bell Operating Company (RBOC) Training Center -
Emeryville, California, USA)

. . . the button to begin the journey!


"Thanks for letting us serve you for over a decade
with 100% pure brochure-ware goodness!"




Copyright © 1998-2011 by Magnitogorsk Social Capital Development, all rights reserved.
http://www.myinsulators.com/pole-climbing
Last Revision Date: February 12, 2011
Best viewed with

and
.





Please visit my associates at Spam Gourmet - M'mm, m'mm . . . good!


Reproduction, duplication or transmission of photographs, art work or other contents is explicitly forbidden without written permission from the author.
All registered trademarks and servicemarks are the property of their respective rights holders.