NOT The Real Thing
Click on any image to enlarge the picture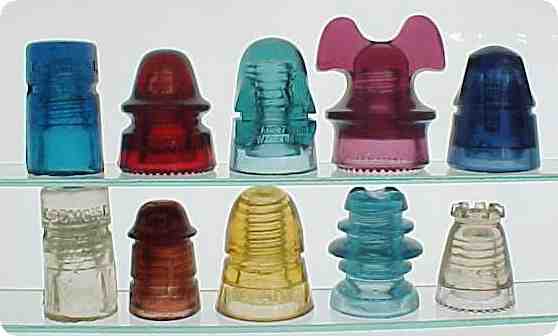 Even though these may look real, they are not. This is a group of Impostulators. They are copies of real insulators. A rubber mold is made of an insulator. Its filled with resin and cured. Producing a full size copy of the original insulator. Even the pin holes are threaded. The only indication its not real, they weigh much less than a glass insulator and come in an array of colors.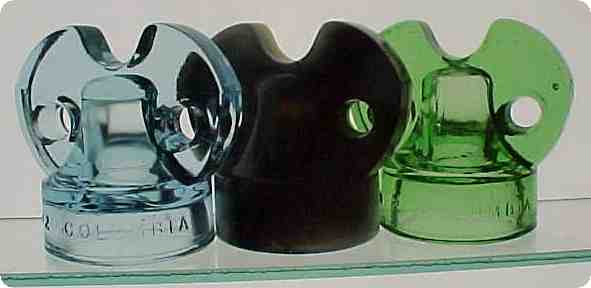 This group shows a few of the L.S.V., private issue pieces. They are embossed on the skirt, No 2 Columbia and L.S.V. on the opposite side. They resemble a CD 262. The pin holes are not threaded. They were originally made in late 80's in a variety of colors and slags (mixtures of colors). Private issue pieces were produced by individuals and sold for profit. The intent was, to introduce a limited quantity into the hobby making them a collector's item.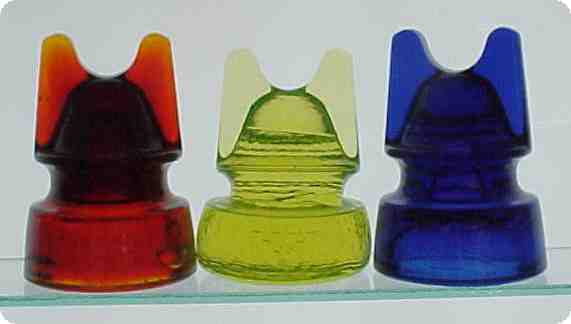 These three pieces are mini jumbos introduced early in 2003. They are a private issue piece resembling a small version of a CD 269 Earred Jumbo. They are embossed H&H Electric on the skirt and four lightning bolts around a Jumbo insulator on the opposite skirt. They come in two base colors, Red-Amber, Vaseline Yellow. A very limited quantity of Cobalt Blue also exist. The Vaseline Yellow pictured is a slumping solid pour.
The W.G.S. private issue pieces resemble a tall version of a CD 102. The skirt is embossed W.G.S.- 94, (95, 96, 97, 98 depending on the year they were produced). One color per year, over a five year period, starting in 1994. They came in yellow, green, pink, blue and an iridized clear. A bad batch of glass produced a very limited quantity in amethyst. The pin holes are not threaded.
The V.T.S. Industrial Co., Number 8, private issue pieces were made in Korea as an advertising give-away for the Village Telephone Service in Arizona in the 1970's. They resemble a CD 102 and come in two very distinct colors, red and blue. The pin holes are threaded. Limited quantities and their unique colors has made them a hot collector's item.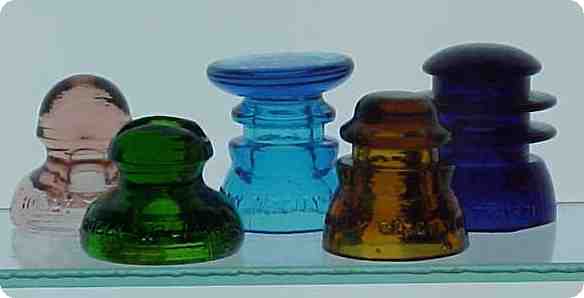 Miniatures like these Holly City N.J. and Wentzel-Cobbs should not be confused with real insulators due to their small size. The are only about 2 inches tall. The four styles are similar to a CD 155, CD 203, CD 285 and a CD 297. They were produced for a number of years starting in the late 80's and sold as collector items. They came in a variety of colors. The pin holes are not threaded. The one in the center of the picture is a inverted CD 155 with a pedestal base (its pictured upside down). Some call it a toothpick holder or shot glass.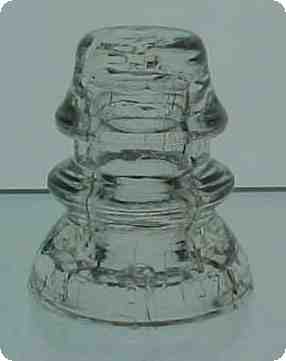 Another small piece, embossed PAT NOV. 1870, CD 154 style exists. Where or how it came into the hobby is still a mystery. Some say a collector had these made as a novelty type collectible. Others claim they were a game piece from a board game. Nothing has ever surfaced to document or confirmed either theory. Nothing is registered in the U.S. Patent office for that date. It's about 1 1/2 inches tall clear glass. The pin hole is unthreaded.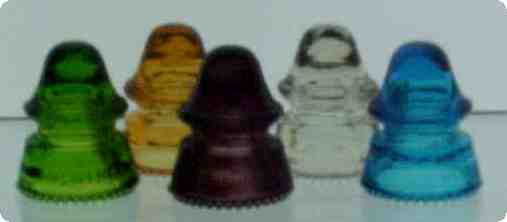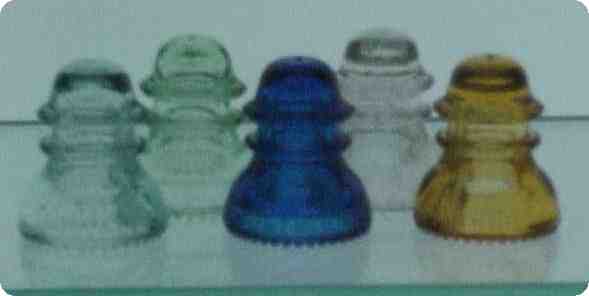 Two other sets of miniatures were even less likely to be confused with a real insulator. The Hemingray CD 162 style and the Dominion CD 154 style only stand about an inch tall. The set of six Hemingray's (embossed HEMINGRAY) came in purple, aqua, amber, blue, green and clear. The Dominions (embossed DOMINION) were a set of five in amber, blue, clear, ice blue and ice green.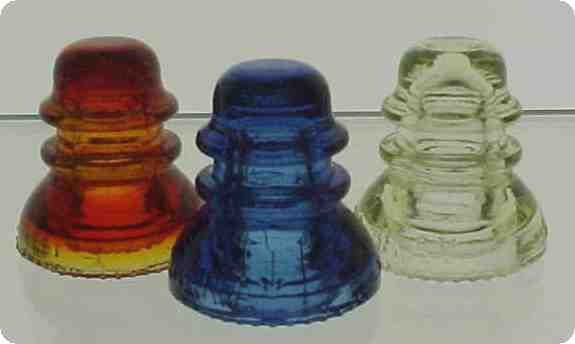 A fairly recent batch of Hemingray CD 154 style miniatures were produced in the last couple of years. They stand about an inch tall and come in three color variations. A Red-Amber, Cobalt Blue and a Lemon-Vaseline. They are embossed HEMINGRAY on one skirt and U.S.A. on the other.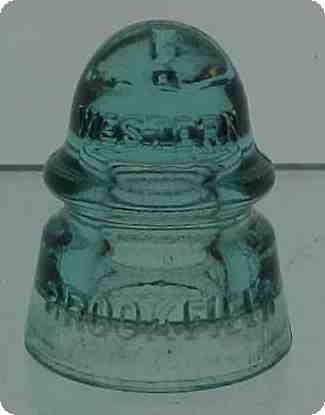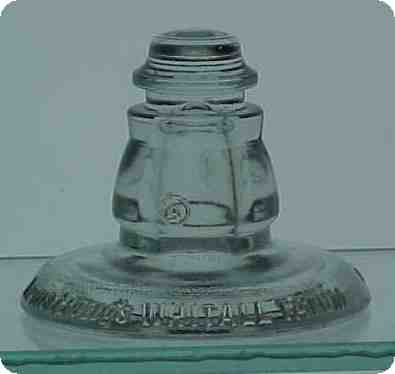 A little sparser in my collection (due to rarity and value) are the salesman samples. Though not real insulators, they were made by the same glass companies that made insulators. The salesmen used them as a prototype to display their product. Not easily confused with the real thing, they only stand about an inch tall. The Brookfield is shown in aqua. The clear Whitall Tatum-Armstrong stands a little larger due to its glass pedestal base. These are much harder to find and more expensive than the the private issue or commemorative pieces.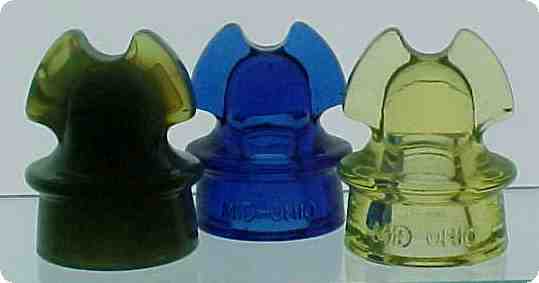 These Mid-Ohio Commemorative pieces stand about 2" tall and resemble a CD 259 Roman Helmet. They commemorate the Mid-Ohio (Springfield,London, Washington Courthouse, traveling Ohio show) that is held each November. They came in Jade Green Milk, A Cobalt Blue and a Vaseline Yellow-Green. One for each year starting in 2000. A few slag colors have appeared, but are quickly snatched up by collectors due rarity from very limited production.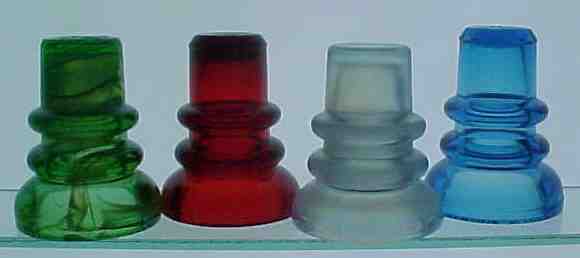 Each year a commemorative insulator is produced to commemorate the National Insulator Associations National Convention. These are based on a CD 736 threadless insulator. Early version had a plain dome. Starting in 1988 the dome area depicts a different design each year. Commonly it is the outline of the state in which the convention is held or the sponsoring clubs logo. The base is embossed (with the number) ## NIA CONVENTION and the city, state and dates of the show. The color changes each year. Like most of the commemoratives they are threadless.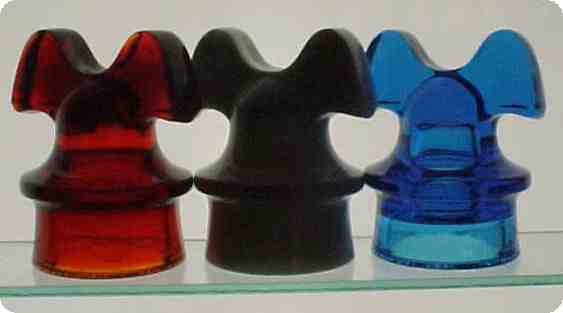 In 1983, commemorating the 10th Anniversary of the National Insulator Association a CD 257 Mickey Mouse commemorative insulator was produced. The set of five includes a red, blue, green, amber and white milk glass. The base is embossed, NATIONAL INSULATOR ASSOCIATION 10th ANNIVERSARY 1983. The pin holes are unthreaded. A portion of the proceeds from their sale went to the NIA.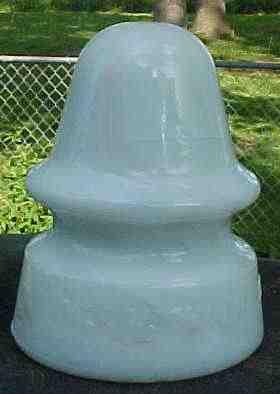 William McLaughlin produced a commemorative insulator commemorating 75 years in the insulator business. They are embossed McLaughlin 19 on one skirt and 1897-1972 on the other. They came in a variety of swirls of milk glass colors. The pin hole is threaded, but tapered so it will not fit on a standard pin.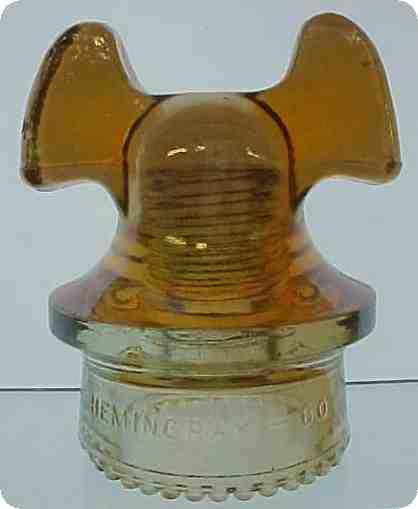 The carnival CD 257 Mickey Mouse has never been documented as being authentic. Supposedly someone applied a carnival coating to a batch of clear insulators years after they were produced. A real carnival insulator would have had the coating applied during the production process, not afterwards.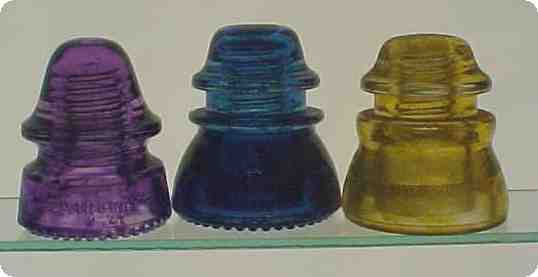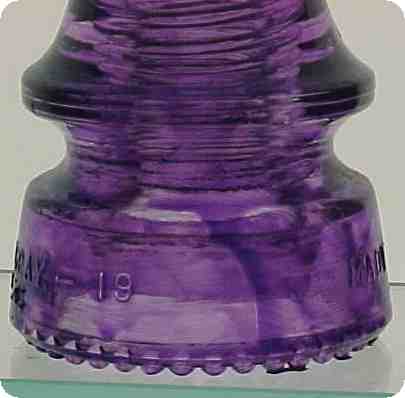 Ones that have made a strong appearance in recent months are insulators that have been painted or dyed to achieve unique colors. If you look very closely, you can usually find flaws in the paint job. Runs or brush marks are few of the characteristics of a these painted, stained or dyed fakes.
Dwayne Anthony has done an outstanding article on "FAKE & ALTERED INSULATORS, ARTIFICIALLY INDUCED COLORS". (click on the link to access the article) It details the color alterations that can be achieved by heat or irradiation. The NIA also sponsors a display of these artificially induced colors. It is set up at many of the NIA shows. Its a very educational and informative display. Take the time to see it when it in your area.
I hope this has made you aware of some of the pieces in the hobby that exist, but are not real insulators. Some are commemoratives. Some are collector items. And some are just plain frauds.
Know what you are buying, BEFORE you buy.
---
Russ Frank
April 2007