Hemingray Glass Co. insulators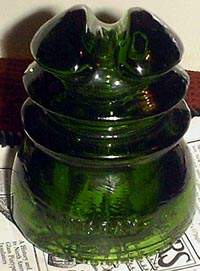 Here is an uncommon, but still easily available Hemingray-43 (CD214) in a striking true 7-Up green color.

This is one insulator that can put some vivid color in your collection without ruining your pocketbook. The color of this piece is exceptionally deep and vibrant, and "lights up" rather well in a sunny window.


You will notice the insulator looks a lot like the common Hemingray-42 (CD154) but it has a saddle groove on top instead of the usual dome.

A Hemingray-43 in an aqua color will set you back about a buck or two; the same insulator in 7-Up green can cost $50 to $100, depending on condition.





Here is a set of Hemingray-42 (CD154) insulators with an uncommon twist: these have no drip points.
Most commonly found with drip points, this insulator is what most people think of when you say "insulator". The characteristic shape and well-defined wire groove are familiar with both collectors & non-collectors. Many regard the Hemingray-42 as a piece of junk to be shot off the poles, crackled, turned into unsightly candleholders, or otherwise abused. But once you're a collector, you can appreciate this lowly but noble piece of glass with all of its variations - different embossings, different colors, different kinds of drip points, or as these specimens show, lack of drips.

Ordinary Hemi-42s command about a buck apiece, but these smooth-base variants can set you back anywhere between $15 and $30 apiece. They are relatively uncommon, but lines of them are still found on occasion.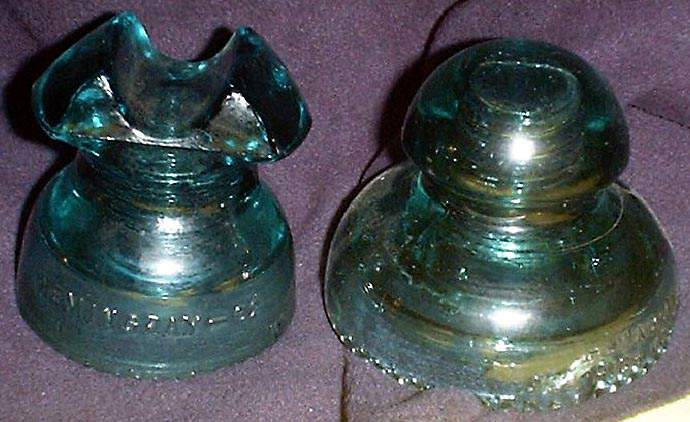 Here is an example of a couple of Hemingray power insulators.
On the left is a CD252 "cable" insulator. The large saddle groove and very thick ears are designed to support a heavy power cable.
Something like this would probably have been found on distribution lines in residential areas, which are the wires that directly feed the "pole pigs" which then feed your home or business with low voltage 120/240 volts.
Voltages insulated by this insulator would probably be 3,800, 4,800, 6,800 or 7,200 volts. The larger insulator to the right could probably handle 13,800 volts or so because it is larger and has more skirts, but the shape suggests it might be more appropriate to use as a dead-end insulator.

On the right is a CD281 made for these higher voltages. This insulator has a wider outer skirt than the cable insulator on the left and it has three skirts (or petticoats), so the leakage path from the wire to the pole is made as long as possible.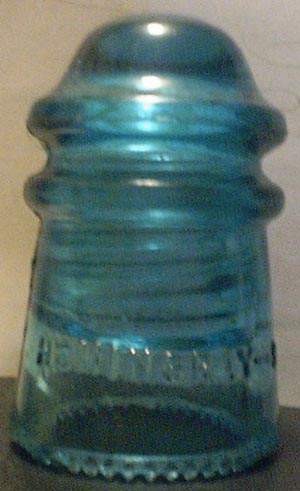 The Hemingray No. 9, or CD106 to you collectors. This is another one of those insulators that are so common, many people just consider them junk, and make into candleholders, crackle glass lampshades, insulampclocks, and other terrifying objects d' art.


This insulator was most often used on rural telephone lines. It is small and light, and has a long leakage path despite having just a single skirt. The overall length of the skirt also protected the pin from becoming wet from rain splattering all over the crossarm.


These are common victims to punk kids with Red Ryder BB guns (think of the kid in "A Christmas Story"). Although these are very common in blue and aqua, they have a good deal of variety and a lot of uncommon variations, both in embossing and in color. Most collectors have at least several of these in their collections, and these make good inexpensive "starter" pieces for new collectors.


An example of this insulator in jade milk (one of the less common variations) is shown earlier in this display.







Prev Page
Next page