THE 12TH ANNUAL EMERALD CITY POTLUCK, FEBRUARY 3, 2001, KENMORE WA.
This section contains photographs taken at the show.
Please allow for loading time if your modem is like mine, thank you.



The day began early. With wheelchair batteries fully rejuvenated and ready to go, I started picking through insulators, trying to remember which ones I was going to bring. So out came the box, and in went my Mulford & Biddle threadless, my bashed EC&M, and my factory-mutilated Oakman cable that I promised to bring as a "show and tell" piece. Can't forget my insulator price guide and my crudely-drawn maps either, so in they go.
The trip from Seattle to Kenmore by bus took about 1 1/2 hours. After getting off at Bothell Way NE and 68th Ave NE, out came the homemade maps, and off I went. The trip all the way up 68th was OK, but then came the HILLS. Boy they're murder on wheelchair motors. 45 minutes and a few wrong turns later, I finally ended up at the home of Win and Bonnie Trueblood, host of today's potluck & mini insulator show.

The entry into Win's home for this potluck was via the garage, and there were some nice insulators in the garage window, including a number of those wonderful CD135 Chicago Insulator Co. "diamond" insulators, with several embossing variations. Beautiful to look at, wonderful to hold, but if you break it, consider it sold!
Well, I didn't break one, but a little while later I did buy one. :)

I quickly discovered my wheelchair would not make the corner from the inside garage door to the two rooms that held all of the sparkling insulators, so I got out the handy-dandy folding cane and used that for the rest of the day. Once in the house, my first stop was Win's own table. It was loaded with some of the most colorful and rare glass I had seen yet.
Purple beehives, cornflower Duquesnes, cobalt signals - and all kinds of other rare and colorful insulators lit up the room.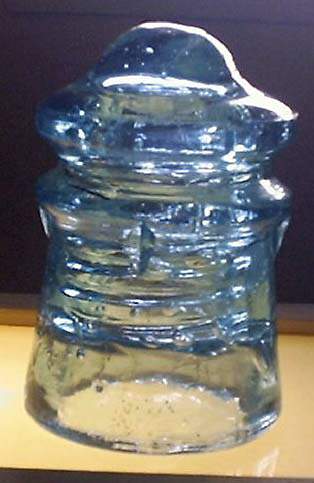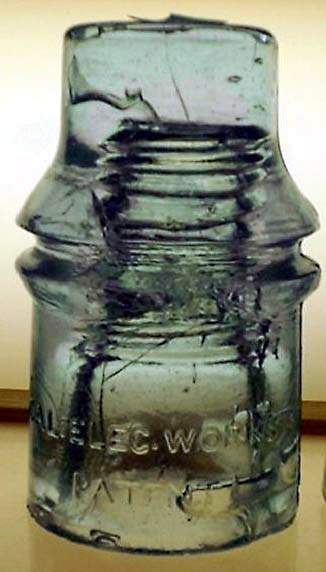 Left: CD106 Duquesne in a stunning cornflower blue
Right: Rare CD130 Cal. Elec. Works in light bluish (light cornflower?)
(Fluorescent light distorted the color of the CD130 slightly)



One of the first things to catch my eye on that table was a very nice medium opalescent Hemingray E_14B. It was the best example of opalescent glass I had ever seen. I picked it up, examined it, and set it back down. A moment later, somebody else picked it up and I thought, "Oh crap, there it goes."
But much to my surprise, the insulator soon reappeared on the table - and I rather quickly snatched that sparkling chunk of color up and held on for dear life!

Then I started seeing more collectors - some of whom I met last year at the Enumclaw show. I'm really crappy when it comes to names, so you will probably not see your name here - but I met CBICO founder Bill Winters, Jeff Hooper, Nathan Lamkey, Paul Ziemer, Violet "Vi" Brown, Gilberto Hedges, Robin Harrision, and a bunch of others - including the gracious hosts Win and Bonnie Trueblood.

A presentation was held upstairs (which I missed for obvious reason) in which Vi Brown received an award from the King County Parks Dept. for her work in keeping the Enumclaw insulator shows going for so long. She was presented with a plaque that had a real CD152 on its pin on it! That's something she oughta enjoy for awhile, and will bring her many memories for years to come.

Win's table had yet to disclose all of her treasures, and I soon discovered another nice gem I actually had enough money for: a red-amber CD168 Hermingray D510.
The exact same thing happened here as happened with the opalescent - I examined it, put it down, and someone else picked it up almost right away. Darn there goes another.... but wait! They put it back! So I indeed got a second shot at it, and wasted no time in grabbing that one too. I hid both of the insulators behind Vi's chair so nobody else would make off with them, and then started going through the other tables.

Since this was a potluck, naturally there was food - and boy it was delicious! Among the food served was barbecued chicken wings, two delicious baked bean(?) dishes, summer salad(?), fruit salad tapioca, and hot apple pie with ice cream. I can't say I can identify every dish by proper name as I do not cook fancy foods or go out, but ALL of it was tasty and my plate was almost clean enough to put back in the cupboard when I finished!
Thanks to all who brought their dishes to share.

While finishing up my apple pie, Paul Ziemer came up and showed me a neat "steelflower" H.G.CO beehive. The color was kind of strange, it was like a very pale cornflower with a steel blue tint. Steelflower is what I'm calling it. He said, "Do you have one of these?" to which I answered no. "You do now" was Paul's surprising answer. I have since learned that it was picked off a section of line outside of Washtucna, WA. about four years ago, and he had only found two in this color. So one graces Paul's collection, and the other one graces mine.

UPDATE 12-22-04: I have heard from another collector that a third "steelflower" beehive insulator now exists. It was found in the southern Ohio/Indiana region within the last two years, and it was still on a railroad pole!

Over the course of the afternoon, I came up with half a dozen new insulators for my collection. These include the following:

CD121 Canadian 'no name' with pleated skirt

CD128 Hemingray E_14B in medium opalescent

CD135 Chicago Insulator Co. in milky 'Chicago blue'

CD145 H.G.CO in pale cornflower ("steelflower" as I described earlier)

CD145 Am. Insul. Co. in brilliant 'Windex' blue

CD168 Hemingray D510 in red-amber

CD208 Hemingray crosstop in Hemingray blue

CD1049 spools in clear, set of four on a tramp bracket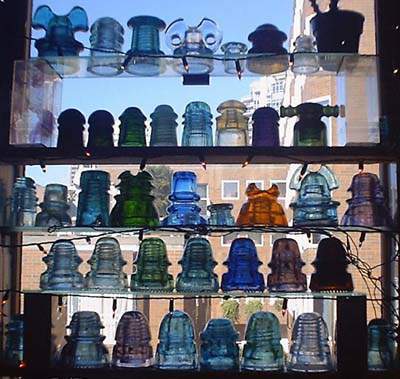 Can you spot today's insulator finds in this window?
Hint: Only the CD208 and tramp bracket are not displayed here.



Best "sights" of the day: a light cornflower blue Cal. Elec. Works, a Fred Locke CD342 (huge glass multipart) and a dead mint cobalt blue EC&M!

When the potluck was starting to wind up, I retrieved my hidden "stash", paid Win for them, and slowly made my way out to the garage with my severely overloaded canvas "Pike Place Market" shopping bag. I hung around there for another ten minutes or so, hammering out deals for the CD208 (turned out to be a freebie) and the tramp bracket before bidding farewell to the Trueblood household.

Naturally, the trip back downhill to my bus stop was much faster, but I missed the bus by mere seconds.
So I wandered aimlessly about a nearby Safeway until the next bus came. Two hours later, I arrived back home where I immediately unpacked and started admiring my newfound jewels.

And that was the 12th Annual Emerald City Potluck, from this collector's perspective.



Parting glance at potluck's end...
---